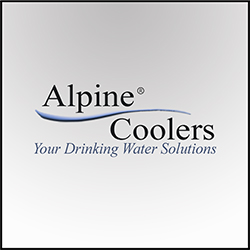 Alpine® Coolers
Your Drinking Water Solutions

Alpine® Coolers is a worldwide leader in drinking water services and filtration systems. Alpine® manufactures and provides:

• Water Coolers
• Ice Machines
• Bottle Water Products

Products include point of use (POU), bottleless water coolers, bottled water coolers and accessories.

Alpine® national water service dealer network includes: national water service, office coffee services, and green friendly options for office and home water filtration.